Brochures are highly effective marketing tools. Hence, most business owners invest in them, to make their businesses well-known among their customer base. Are you interested in it too? If yes, you can use a 3 fold brochure design to reach out to the audiences and inform them about the latest products or services you are offering. This can be the most efficient means of communicating with the audiences and giving them a chance to know your company better.
In this blog, I am going to discuss with you more about tri-fold brochures and their kinds.
# Knowing a tri-fold brochure –
When people think of a brochure, they generally visualize a tri-fold one. When readers open up a tri-fold brochure, first they get to see two panels. Then, the right panel opens up to reveal the three-panel spread.
In all probabilities, your prospective customers would be used to reading this kind of brochures. Thus, it can be easy for them to relate to a trifold brochure design of your business. At the same time, as readers get to read many tri-fold brochures, you must take utmost care to make these marketing tools unique and eye-catching.
Most printers are used to printing tri-fold brochure layouts. So, it can be more cost-effective for you to print brochures having this particular fold, rather than uncommon ones.
It is always easy to fit tri-fold brochures in pockets or distribute them as handouts. This is another reason behind the popularity of brochures having this specific fold.
While making a tri-fold brochure, first a page is divided into three panels. Remember to make the panel, which folds in a bit shorter than the other two. This can prevent the panel from clashing with the other pages and crumbling up the whole brochure.
# Important parts of a tri-fold brochure –
Just like all other kinds of brochures, a tri-fold brochure must be attractive from every angle. Only then, readers can be motivated to go through the brochure. Thus, every part of a tri-fold brochure must be crafted with utmost care.
The cover page -Have you ever thought why designers pay so much importance to the cover pages of brochures? It is so because, readers first view the cover page of a brochure. So, if the cover impresses them, they feel the urge to read the content inside a brochure and check out the images. You must always place the most valuable information and image on the cover of your brochure. However, prevent the inclination to go overboard, in an attempt to make the cover page attractive. Always keep it simple and short.
The inner flaps and panels -The inner flaps and panels are other important parts of any 3 fold brochure. You must use this space effectively, so that you can impress the readers and turn them into customers. Begin your statement by complimenting the customers and stress on why they must opt for your business time and again. Arrange the information about your products or services in this part and add high-quality images to prove your points. You should not stop only after giving an outline of the products or services. Be sure to mention the advantages customers can get by availing them. You can also give testimonials written about your business by previous customers in the inner parts of a tri-fold brochure.
The back page – This is the place where you should mention your contact information. Do not forget to include the addresses of your homepage and social media website at the back of every brochure of your business.
# Different kinds of tri-fold brochures –
Tri-fold brochures are of different kinds and they are generally distinguished on the basis of the purposes they serve.
Educational institute tri-fold brochures – A trifold brochure design of an educational institute must have the ability to impress students and their parents. Students have fresh and young minds. Parents too, prefer what their wards like. So, the brochures of educational institutions must have vibrant colors and innovative designs. For example, there can be images of students studying in smart classrooms or engaging in interesting extra-curriculum activities.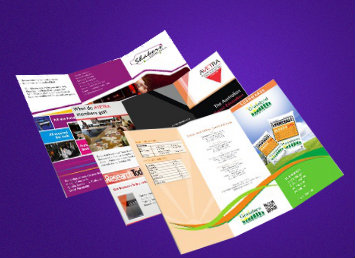 Square tri-fold brochures – Square tri-fold brochures can be perfect for you, if you need to include images having different geometrical shapes. For example, if you have an interior designing business, you may need to include the images of furniture having different shapes. Square brochures can give you enough space to display the furniture in an attractive manner. Take care to maintain a homogeneity in the sizes of the images, so that a brochure looks balanced.
Restaurant tri-fold brochures – Tri-fold brochures are the best for displaying the menu of a restaurant. If you are a restaurateur, make sure to have tri-fold brochure menus that are long and slim. This can help you to display different food items in lists. You must always highlight the names and prices of dishes, so that it can be easier for prospective customers to go through them. To separate different kinds of dishes and give a glimpse of how they look, you can insert images of food items in certain places of the menu.
If you make special dishes on festive days or give lucrative discounts, do not forget to mention them in the tri-fold brochures. To draw the attention of the audiences to these parts, use bright and bold colors. This kind of efforts pay off quite fast and business owners who indulge in them can be sure to witness a boost in sales within a short period of time.
Corporate tri-fold brochures –
A corporate 3 fold brochure must be very smart-looking. You can include elements like pie-charts and bar graphs in your corporate tri-fold brochures. There can also be images of meetings or employees working in your office. Your corporate brochure design must mention about your growth in the past year, so that potential investors and stake holders can become interested in working with you.
Real estate tri-fold brochures –
Do you have a real estate business? If yes, you must have tri-fold brochures that cater to the industry. By this I mean that your brochure must have images of the buildings you construct. They must be impressive looking and realistic at the same time. As buildings are now smart looking, your real estate brochures too should be sleek and modern. You can limit the use of different colors and use only two solid colors. On one panel you can insert beautiful images and on the other you can write about the amenities you provide to your customers. You can use the third panel to tell the customers why they should choose your business over others in the market.
This is all you need to know about tri-fold brochures and its different kinds. As you must have realized, you must keep in mind the nature of your business, when you choose a trifold brochure design. This can help you to have the most effective brochures that can advertise your products or services proficiently. Hence, opt for well-designed brochures and watch how your business gains huge popularity among customers in no time.